EAT – balanced & regional cuisine in Das Walchsee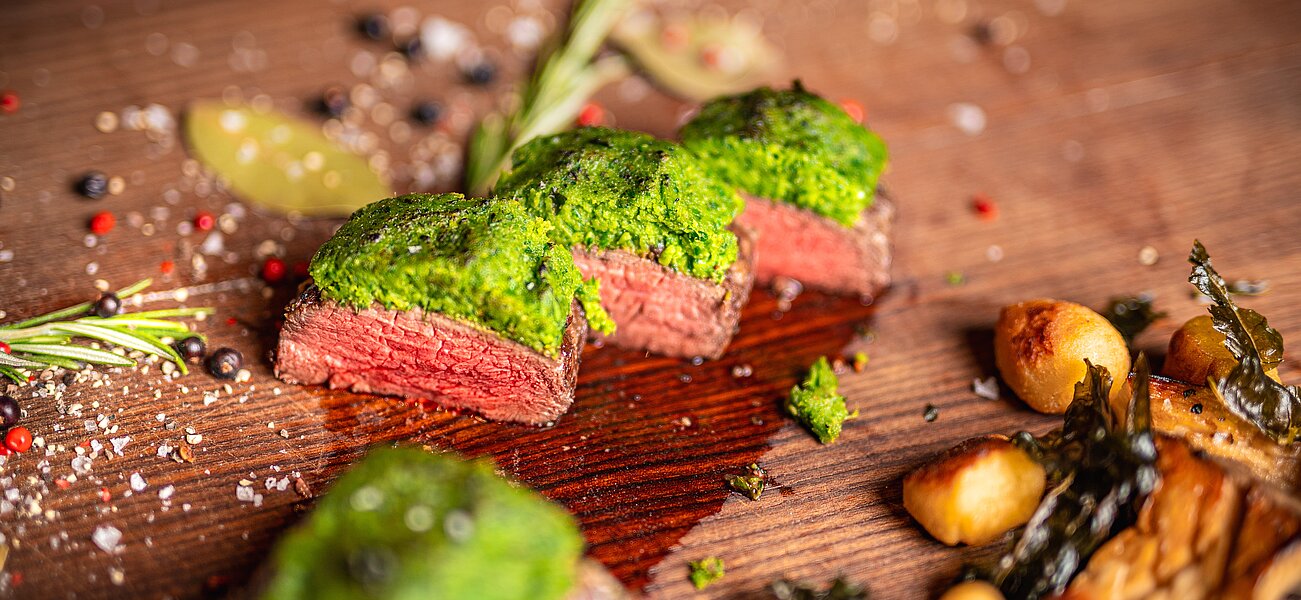 Cycling, hiking, skiing or swimming – what should feature? Correct: The right accompanying elements - with healthy and substantial ingredients on our guests' plates. To meet the needs of a balanced lifestyle, as a guest in Das Walchsee Sportresort you get to choose between a wide range of recipes from the hotel's own Move & Relax Energy cuisine.
Whether it is for breakfast or as part of your Energy half-board – here with us you get to feast to your heart's content – and it's healthy too! There are a wide range of restaurant areas in our Resort: including the traditional 'Zirbenstüberl'or the sun terraces, which invite you to simply indulge.
Make a no-obligation enquiry now!
Attention all guests! All our meals are fresh & healthy
We want to provide food that is beneficial for our guests. And our Move & Relax philosophy is geared to that too – including the Energy cuisine we offer in Das Walchsee Sportresort. This means our guests can:
support a healthy, balanced lifestyle
strengthen their immune system and top-up their energy stores for even greater strength & endurance in their day-to-day lives and during sport
enjoy nutrient-rich and valuable delicious meals
consciously renounce unhealthy fats, high-glyaecmic and nutrient-poor ingredients
enhance their individual well-being
always opt for a healthy alternative.

As per our EAT philosophy, we prepare meals in our kitchen which are the basis for a healthy and longer life.
Low fat meals & detox treatment in Das Walchsee Sportresort
Guests get to enjoy a very special offer with the Herbal wrap treatment. In our hotel guests can choose low fat meals that are tailored to suit their herbal wrap treatment and instead of a coffee, can enjoy a detox tea.
The aim is to detoxify the body. To tighten tissues, a special wrap technique is used and applied on problem zones – for instance, on areas of cellulite, fatty deposits and areas of water accumulation. In line with this programme, choose produce from our Energy cuisine, which does your body some good and has a positive effect on your well-being.
Selected ingredients & delicious meals
During a stay in Das Walchsee Sportresort you get to enjoy all the benefits that Tyrol has to offer.
Extensive buffet breakfast: hot & cold meals prepared front cooking style, and a health area
At our buffet breakfast, a wide range of substantial meals await:

Move & Relax area
Yoghurts to add items in yourself & cereals
Fresh, seasonal fruits
Selection of regional cheeses & sausages
Healthy spreads
100% regional jams
Various juices
Juicer for the ultimate freshness hit!
Regional juices
Turmeric, ginger, fresh pepper & high-quality salt as IMMUNE BOOST ADD-ONS
Hot egg dishes
Crispy pastries
Freshly baked bread
And much more
Evening meal from the buffet and a front cooking station: With a variety of meals, including accompaniments & dessert buffet
A large selection of drinks: Including non-alcoholic drinks, with coffee & tea from the buffet

Whether you are a sporty type and are looking for adventure, or you just want to relax and unwind – the ingredients with which we pamper our guests in our 4-star hotel, are put together in the hotel's own kitchen. The outcome: we are able to present our unique EAT philosophy, which takes care of the needs of your body, mind and soul alike.
Every day you can choose from:
2 soups
Salad buffet
3 mains (1 x vegetarian)
or The Move & Relax menu as a product of our Energy cuisine
(always designated with our Move & Relax logo in green & blue)
2 desserts from the hotel's own patisserie
The evening meal is served as a buffet format. You get to put together a menu that you prefer.
Enjoy delicious regional treats from Austria
Our regional suppliers provide the utmost quality and promise unique indulgence, where you can practically taste the benefits of Tyrol.
The Bäckerei Pretzner in Kössen produces bread, bread rolls and other pastries that you can enjoy at our buffet breakfast.
From Maier fruit wholesalers we get fruit and vegetables from the region.
The Biokäserei Walchsee indulges our guests with exquisite speciality cheeses.
Regional meat is from animals that were born, reared and slaughtered in Austria.
Enjoy a sustainable and healthy holiday
Balance wherever you look– In Das Walchsee Sportresort guests will find a wide selection of offers to enjoy a work-out and sport. Yet there is also plenty of time for recuperation and relaxation here too. For a balanced and healthy lifestyle, as well as sport and relaxation, the right nutrition is required too – from that reason, precious ingredients and select dishes feature in the hotel's own Move & Relax Energy cuisine.
Benefits of the hotel's own Energy cuisine
The Move & Relax Energy cuisine that we serve in our restaurant, is based on specific ingredients which promote a healthy, balanced lifestyle.
Our guests can benefit from these in many different ways:
To start a better and a healthier life
To strengthen the immune system
To gain more strength, energy & endurance
To consume expedient carbohydrates & nutrients
To enhance individual well-being
Ultimately, with the hotel's own Move & Relax philosophy, we made it our duty to offer our guests an ideal combination of exercise, regeneration and healthy nutrition.
Do you have any questions about our EAT philosophy, or specific requirements that we need to pay attention to during your stay in Das Walchsee Sportresort?