Road bike holiday in Tyrol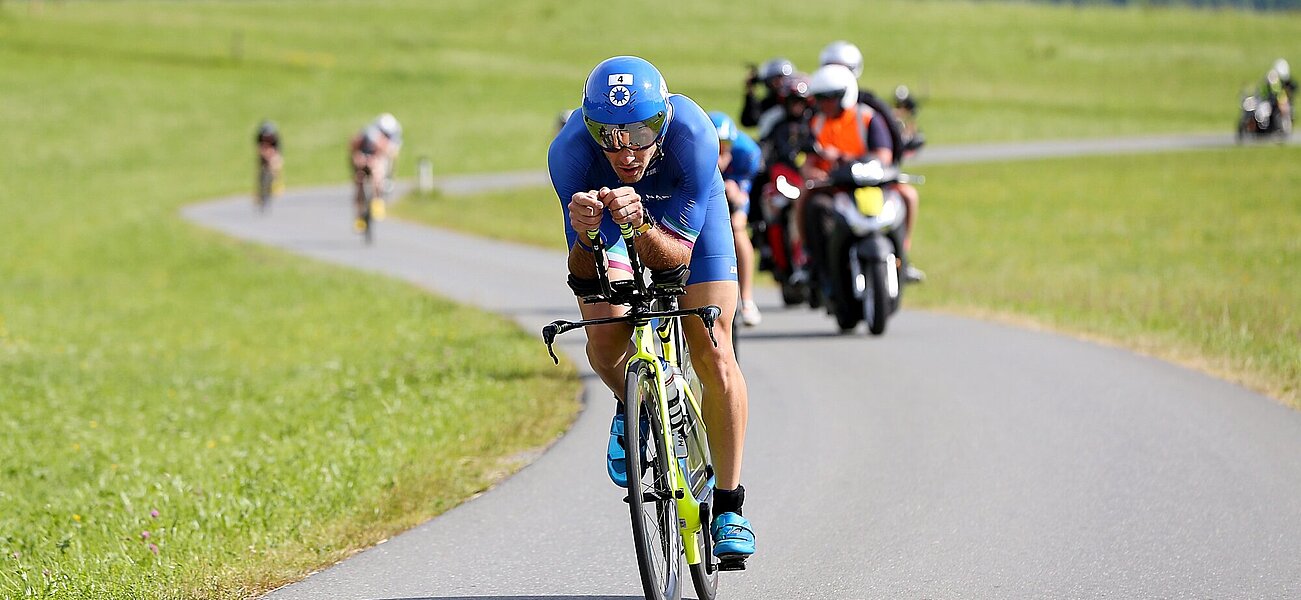 Passion, yearning, expansive views – that is what makes a road bike holiday in Tyrol. And the lovely thing: in Das Walchsee Sportresort you get to share your passion with like-minded people. We are of course here for you to provide advice and tips regarding the loveliest road bike routes in Kaiserwinkl!
Are you looking for new adventures, would you like to head out on a journey on your road bike and discover picturesque places from the saddle? Walchsee is one of the most popular road bike destinations in Austria. Are you ready to explore new destinations on unfamiliar terrain?
Tyrol – and the Kaiserwinkl in particular – is regarded as a true paradise for road cyclists and practically meets all needs - from pleasure-filled cycling along Walchsee to sweat-inducing mountain stages, with the lofty peaks of the Tyrol Alps in view. Road cycling holidays in Tyrol inspire with their variety and perfect overall conditions. Extensive rural and panorama roads, along with cultural highlights along the route also tempt you to enjoy a holiday in Walchsee on your road bike.
Make an enquiry about your road bike holiday now!
Or get in touch by telephone:+43 5374 5331
Road cycling for beginners & pros
The natural surroundings in Tyrol are characterised by a wonderful composition of mountains and lakes. A road bike tour proceeds past idyllic towns and traditional villages, on the banks of Walchsee, up to blossoming Alpine meadows over panorama roads which provide an abundance of views. Beginners and cycling pros alike are very well catered for during a road bike holiday.
Around Das Walchsee Sportresort ambitious road riders can work on bagging climbs. Meanwhile, on the flatter and long, drawn-out rural roads, there are leisurely tours that are ideal for beginners. Swimming areas along the routes, along with a variety of refreshment options, tempt you to enjoy a brief - or longer - break. Boredom is certainly not an option during a road bike holiday in Austria and in the Tyrol region!
On a road bike in the fast lane
Around Walchsee, the Wilder Kaiser or on the big Kaiser circuit – you get to experience the breath-taking landscape during a circuit tour on your road bike!
Tyrol's mountain valley provides so many different options: The impressive mountain backdrop can be seen from every angle. At the foot of the Kaiser mountains meander 180 km of cycle paths. Pleasure cyclists ride around Walchsee or the Kaiser massif – with views to the Wilder and Zahmer Kaiser – ambitious road bikers take on Challenge Kaiserwinkl-Walchsee.
Discover all the road bike highlights in the Kaiserwinkl:
Over 200 kilometres of cycle paths
Pillersee circuit
Reintal lake circuit: From Kössen to Kufstein
and much more
Hop on to your road bike and discover the beauty of the Kaiserwinkl during tours on the many very well signposted paths. From pleasure-filled Alpine tours to challenging mountain ascents, to excursions with views to Walchsee – The variety-packed selection of routes combined with the exclusive service in our Sportresort create the perfect setting for a road bike holiday in the Kaiserwinkl!
Full throttle into a road bike adventure
As a member of Roadbike Holidays our sporty 4-star hotel specialises in meeting the needs of road riders and meets the highest criteria for your road bike holiday. So you can rest assured that you and your road bike are in the very best of hands here with us!
High Alpine and variety-packed: In the Kaiserwinkl in Tyrol, pass roads meet scenic, culinary and cultural variety. This can be extensively enjoyed during a Road bike holiday.
Facilities for roadies in Das Walchsee Sportresort
It is not just thanks to its well-known ski areas that Tyrol is a winner. In summer in particular, numerous road bike adventures open up for our guests. Since the Kaiserwinkl is very much characterised by the Alps, Walchsee is high on the agenda of those who adore passes and mountain roads. The selection is rounded off by the high quality facilities available in our hotel:
Cycle storage area: Lockable bike room - CCTV monitored
Individual bike locks
Facilities for drying bike clothing
Laundry service
Workshop area
Cycle information corner, with a map overview
Shower options available on the day you are due to depart
Expertise & service for road bikes
Pro teams are attracted to the Kaiserwinkl time and again, to tackle the legendary routes on their road bikes. But that is not to say that families and leisure riders won't be able to have fun here too – quite the contrary! After all, in terms of the infrastructure for road bikes Tyrol is very well set up and provides a tour to suit every guest. You can also benefit from the road bike expertise available in Das Walchsee Sportresort:
Map sheets, road books, altitude profile
GPS data for tours (free download)
Collection service in the event of breakdowns
Rest & relaxation after a day on the bike
Meals for our cyclists
Plenty of food available round the clock
Xenofit energy bars & drinks in the hotel
Après bike snack