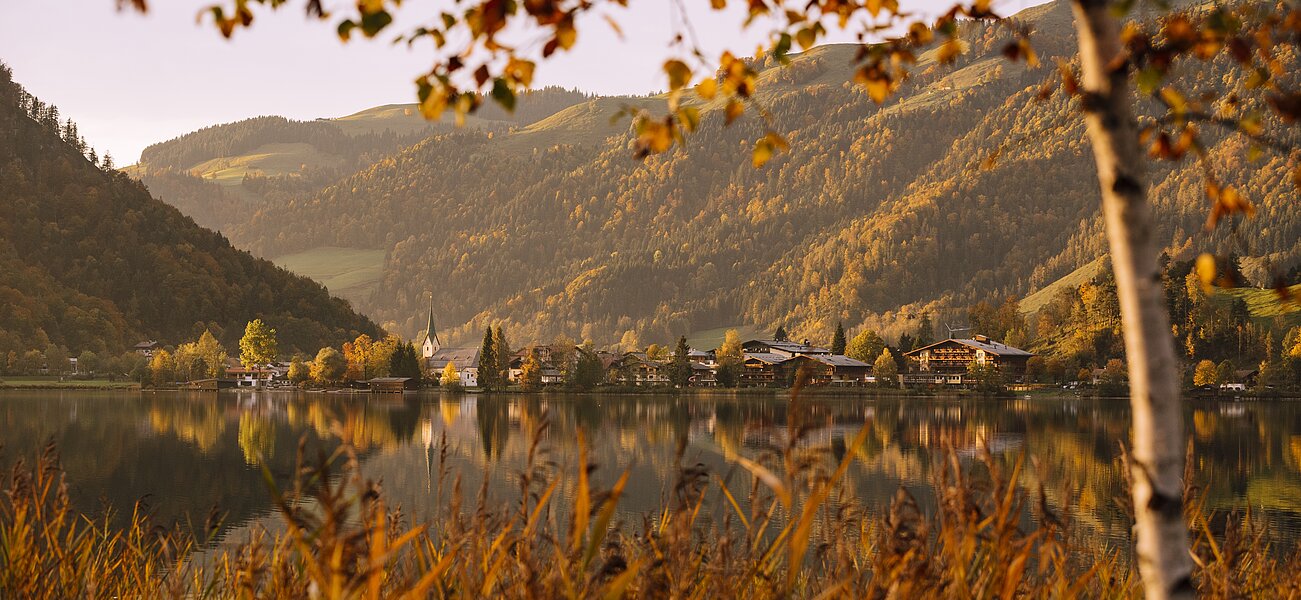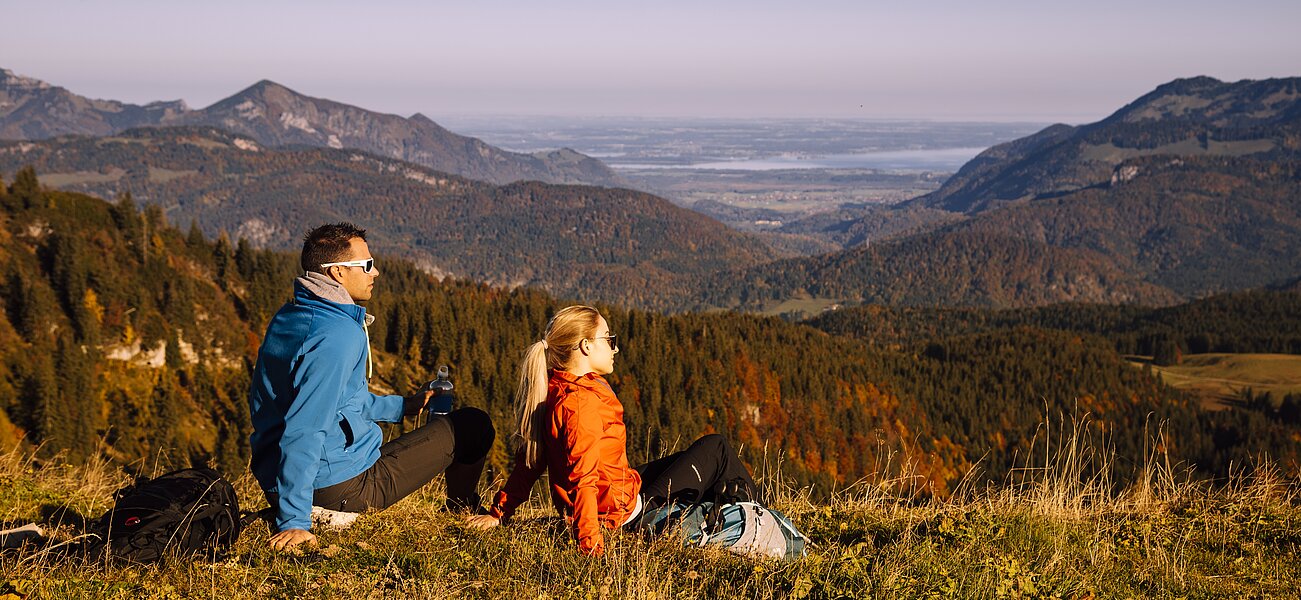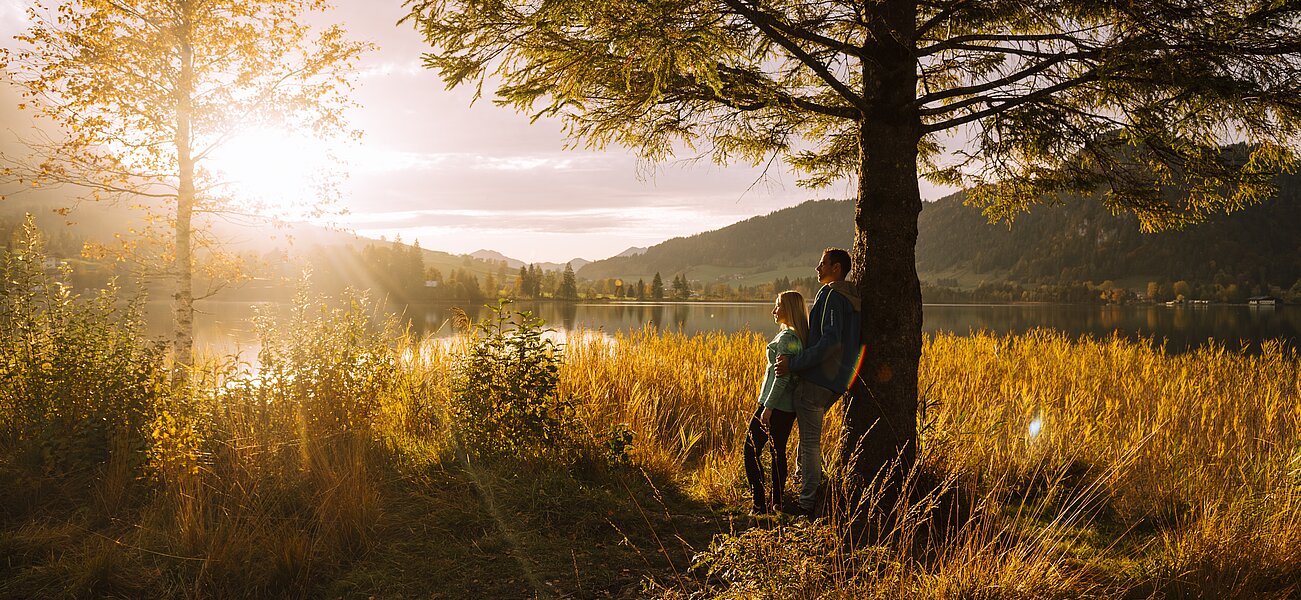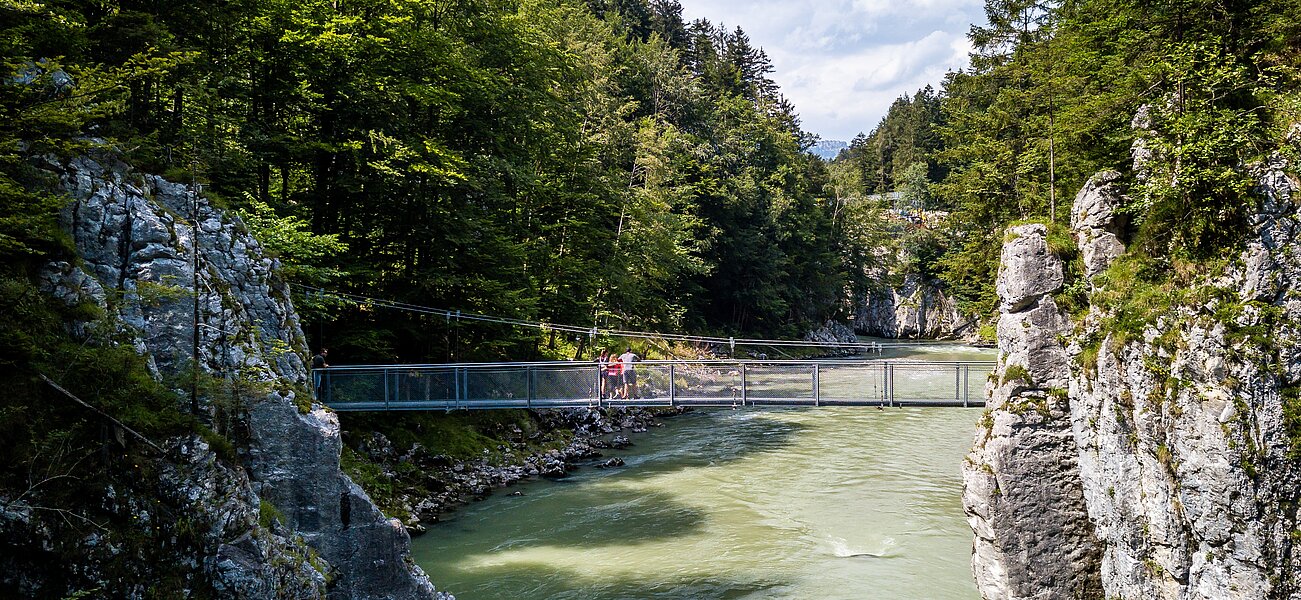 Colourful leaves, clear mountain views and spectacular sunsets - autumn is here! Those of you who only know Tyrol in the summer and winter are missing out. For many hiking fans, it is now that the loveliest season to scale the summits begins. Gone is the heat of summer, making space for warm autumn days.
Enquire about your autumn holiday now!
Or get in touch by telephone:+43 5374 5331
Enjoy the golden hours of autumn
In autumn it is not just hikers who are delighted by the "golden hours" shortly before sunset, or just after sunrise photographers too get the best opportunity to capture the wonderful mountains of Tyrol.
Idyllic Alpine inns, blossoming pastures and a paradisical view to the Kaiser mountains – meanwhile those who enjoy romance, will feel just right in wonderful Tyrol. In the holiday region of Walchsee there are numerous opportunities to enjoy a relaxing and particularly pleasure-filled autumn holiday. How better to enjoy autumn in Tyrol than on a tranquil boat trip across the crystal-clear Walchsee or during a hike or cycle tour through the colourful woodlands?
At any season – but in autumn especially – there are plenty of different events taking place in the region around Das Walchsee Sportresort that are not to be missed. Carriage rides through the picturesque autumn landscape, or a hike to one of the traditional Alpine inns – there are no shortage of highlights and events during an autumn holiday in the Kaiserwinkl.
Alpine cattle drive in Kössen
The Alpine cattle drive is simply part and parcel of the end of summer, those of you who want to see the Alpine cattle – colourfully bedecked and with loud bells – being guided through Kössen, ought not to miss this spectacle! The music group and the folk dancing group, along with Tyrolean specialities, make for a very special experience.
Kaiserwinkl golf week in October
During golf week in the Kaiserwinkl, golf fans and those with an interest in the region around Walchsee can experience everything during this small-scale competition! Thanks to the perfect combination of tournaments, free games and the right musical and culinary accompaniments, golf beginners and pros alike get to see a new side to the golf courses in the Kaiserwinkl.
Wellness holiday in the autumn
The best of both worlds: Enjoy sports activities, yet relax - this is possible in Das Walchsee thanks to its unique Move & Relax concept. The harmonious interplay between active exercise and bespoke regeneration – complemented by healthy food – forms the basic philosophy of this sport and wellness hotel.
It is precisely in the cooler seasons that you yearn for some relaxation, rest and warmth after an extensive autumn hike. There are various options available for you to relax during your holiday in the Kaiserwinkl:
For instance, a hike to a mountain lake or to Lochner waterfall clears the head. Once you get to the top, you get to enjoy the wonderful panoramic views across the valley.
Close to Walchsee is the beautiful moor landscape of Schwemm. This conservation protection area is the perfect place to enjoy a relaxing time. Lots of rare animals and the colourful natural spectacle provided by the trees and woodlands sets hearts ablaze in the autumn.
After a day outdoors our Move & Relax area awaits you. An extensive wellness offer with beneficial massages and cosmetics treatments provide an ideal setting for relaxation.
Autumn holidays in the mountains - Could there be anything more lovely? Those who not only want to feast, but also to enjoy the Tyrol mountains too, will be right as rain in Das Walchsee.
Since the 2020/2021 academic year, there have been autumn holidays in Austria. Between Austria's national holiday on 26.10. and All Saints' Day school pupils enjoy a holiday. Why look afar when home is so beautiful? Nothing stands in the way of an autumn holiday in Tyrol!
Autumn sports highlights around Walchsee
Tyrol's Walchsee in Kaiserwinkl provides an ideal setting to find a balance between active exercise and relaxation. Rural leisure meets sporting challenges here.
The area at the foot of the Zahmer Kaiser is not called Kaiserwinkl ('regal nook) without reason: In a particularly tranquil location, not far from the border with Germany, day-trippers, locals and holiday guests come together to enjoy the area and the autumn ambience. Families with children and athletes in particular feel great here:
200 km signposted hiking paths
180 km cycle paths & 125 km MTB routes
3 Golf courses
and much more
For the 'Challenge Kaiserwinkl Walchsee' triathlon conditions around the lake are ideal for training and making the most of the mild, autumn temperatures.
Excursion destinations for an autumn holiday
Nestling between the jagged summits of the Kaiser mountains and crystal clear Walchsee are the towns of Kössen, Schwendt, Rettenschöss and Walchsee. The Kaiserwinkl exudes an unbelievable Alpine idyll, that also tempts you to explore the region while hiking, mountaineering, Nordic Walking, cycling, climbing or horse-riding.
There is also a varied range of excursion destinations around Walchsee:
Wildbichl wildlife park
Rarity zoo
Triassic Park
Trampoline park in Walchsee
The towns of Kufstein, Kitzbühel and Innsbruck nearby
During every season – and especially in the autumn – our guests in Das Walchsee Sportresort get to experience dreamy adventures in the mountains! The popular holiday region is probably one of the loveliest places to relax, unwind and enjoy sporty activities. The impressive summits of the Wilder and Zahmer Kaiser provide an ideal setting for an unforgettable autumn holiday!