Horse-riding holidays in Austria – Kaiserwinkl on a horse
Adventures with animals for all the family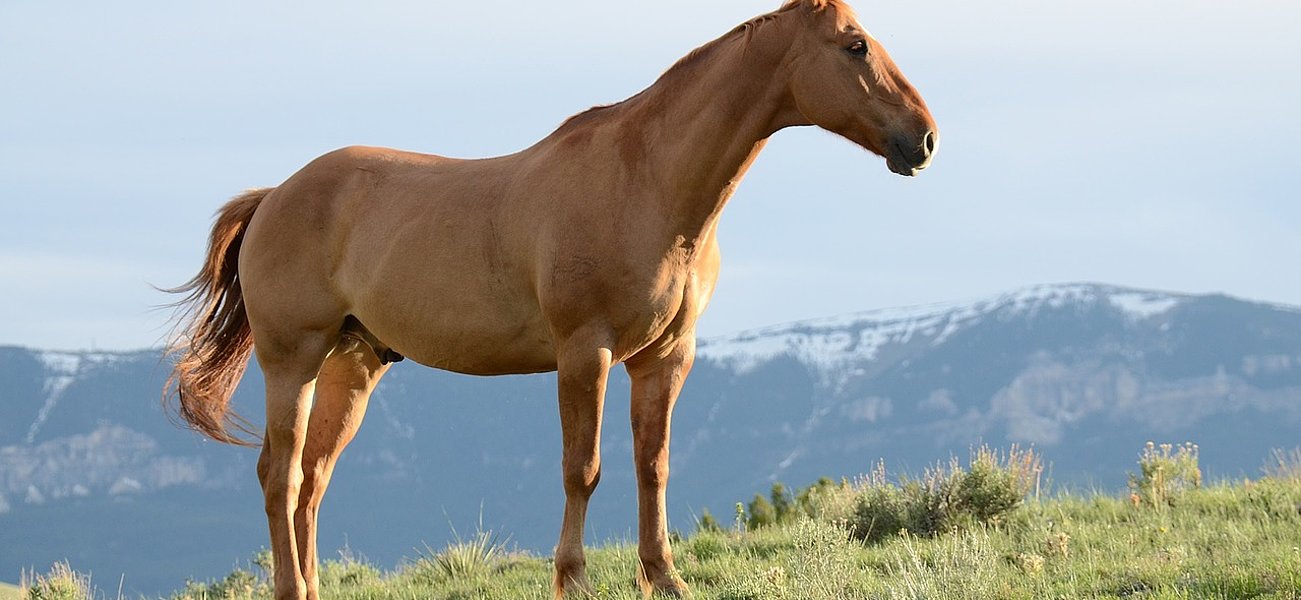 Riding for adults – Hack rides and carriage rides
Horse-riding fans are well catered for here with us in the Kaiserwinkl too. The Dagnhof in Walchsee offers private riding lessons throughout the year. Another riding facility is Haus Sebastian and the Pony Caravan at the Aignerhof in Kössen. Tame ponies and horses can be stroked, guided and ridden here.
Riding lessons can be booked individually or as a group session. A riding holiday in the Kaiserwinkl is ideal for beginners to learn how to ride in a riding school without any pressure. Rides can also be fully enjoyed by leisure riders. The mountains on the horizon, the expansive meadows, lovely woodlands and lake landscapes provide a dreamy setting during a riding excursion. Experience Austria from a completely new perspective while on horseback!
Details about riding facilities for adults:
Individual lessons: Private lessons
Group lessons: Riding lessons as part of a group
Beginners: Riding schools and learning how to ride
Safety: Learning to ride on a longe
Advanced level: Hack rides on a horse
Riding holidays for children – ponies and learning to ride
A riding holiday brings with it so much fun and variety for children. Along with horses, there are also ponies for the littlest riders which invite them to enjoying riding and also stroke them. Those who want to can also vault during their riding holidays and learn and then practice small drills on the back of a pony. In a group of six to ten children, this unique experience is particularly motivating and is great value for parents too.
The Equilino Ponyclub in the Dagnhof is even more fun. Over several hours at a time or progressively, your little darlings are introduced to the world of horses in a fun way. Riding games, skills training through the course and tips on how to handle horses are a few key elements of riding lessons in the pony club. This is one animal-oriented holiday your child certainly won't forget.
Offers for children at a glance:
A fun approach to horses and learning how to ride
Pony rides, even for those who are just a few years old
Vaulting group
Pony club with discounts thanks to the Kaiserwinkl Card
Year-round carriage rides in the Kaiserwinkl
Anyone who doesn't want to spend every day of their riding holiday on horseback, can also take part in an entertaining carriage ride. During an hour long horse-drawn carriage ride around the lake, the idyllic landscape can be seen in all its splendour. Private ride sessions are available on request so you really can enjoy the relaxing sound of trotting hooves.
In summer you get to experience the wonderful lush meadows and the intense blue of Walchsee. In winter you can listen to the snow crunching beneath your feet on the winter paths, while the surroundings are radiant in gleaming white. A two-hour horse-drawn carriage ride is available for a minimum of 7 adults and takes the group on a relaxing journey through Kössen.
Details about carriage rides:
Carriage tour around the lake – Dagnhof (1 hour)
Carriage tour through Kössen (2 hours)
Year-round offers
Private ride available on request
Discounts with the Kaiserwinkl Card
Other activities for your summer holiday in Tyrol: