Rafting and canyoning in Austria – Adventure holiday in Tyrol
Action and adrenaline between giant ravines and wild waterbodies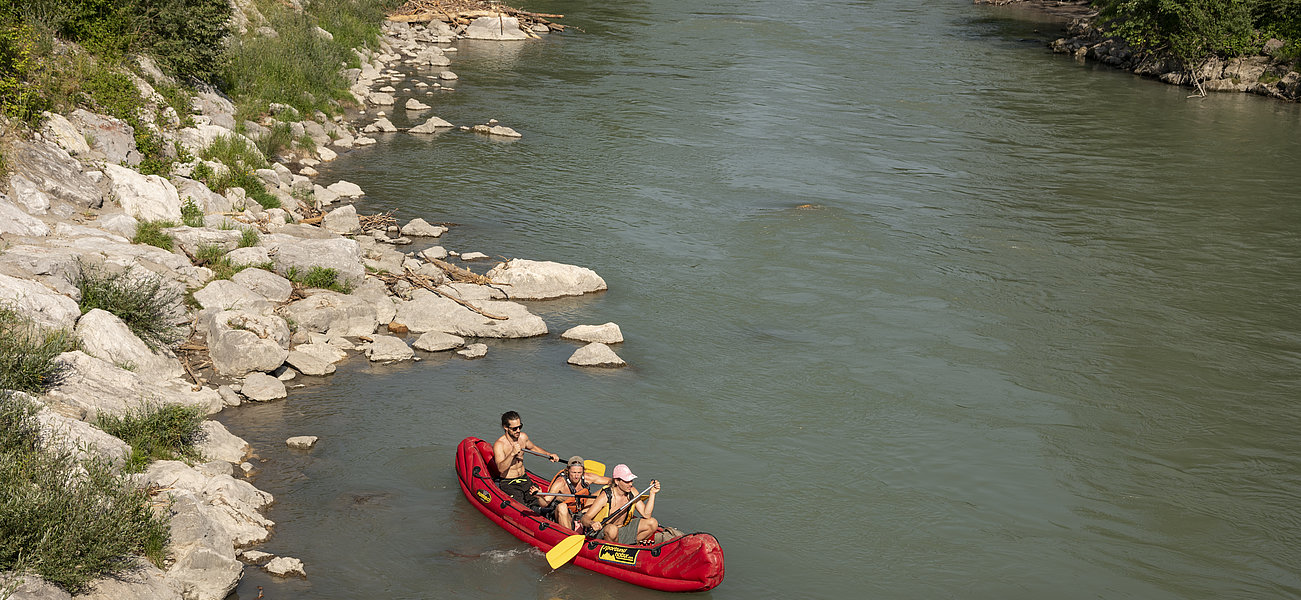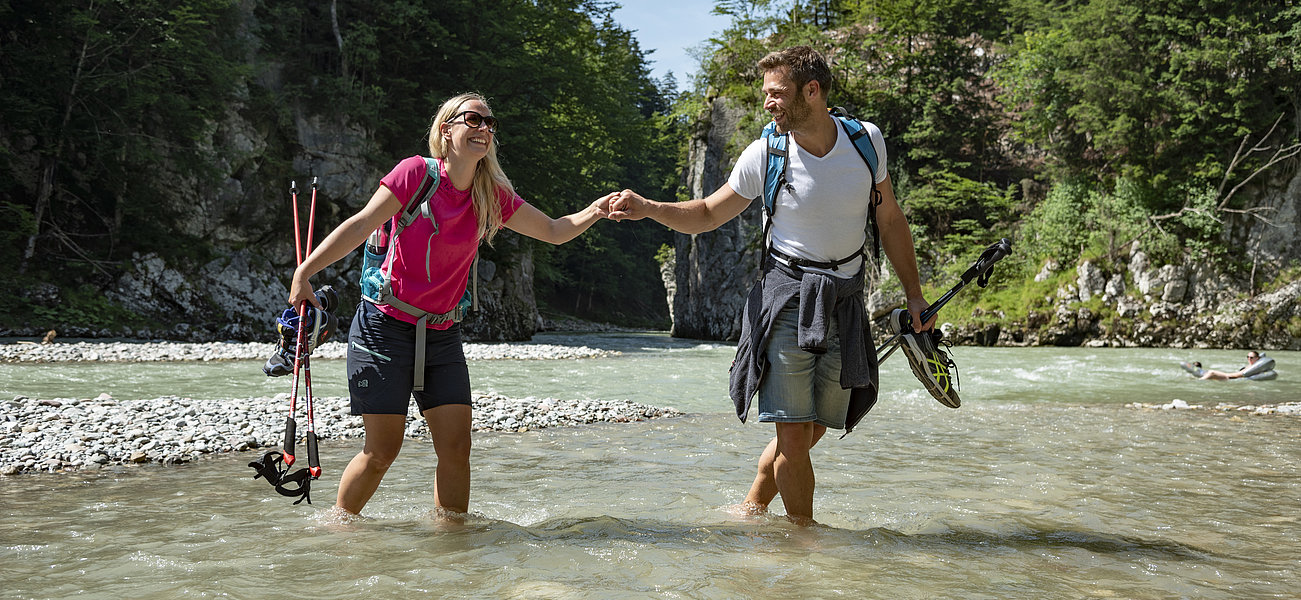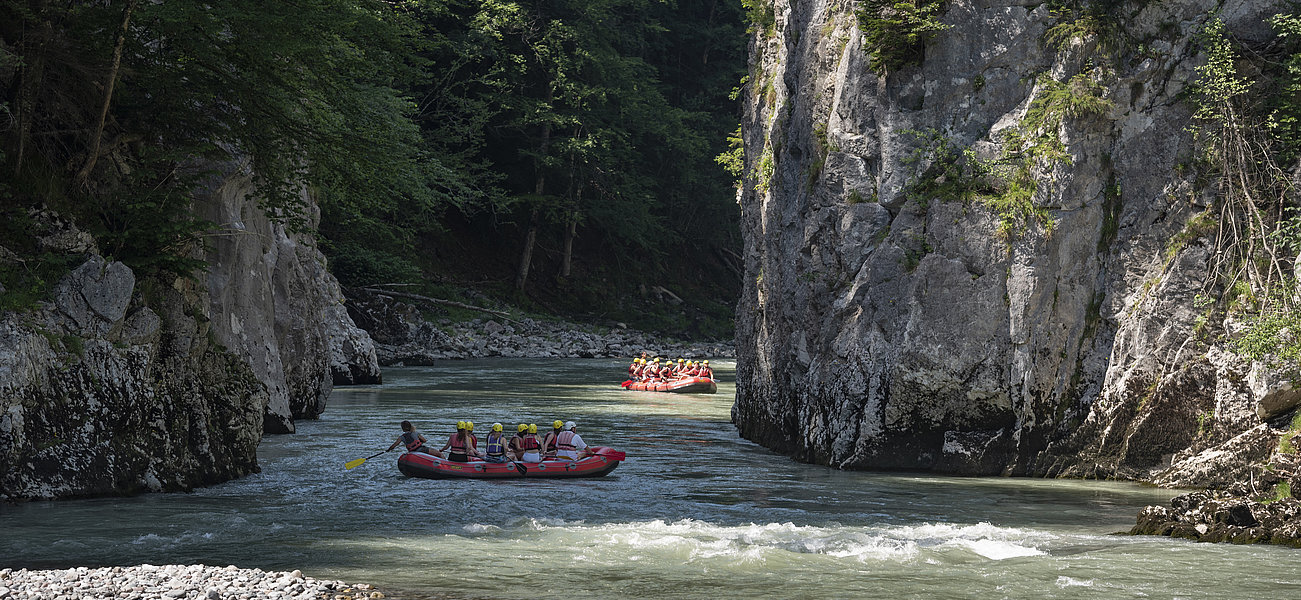 Adventure holiday in Austria: River hiking, high ropes course and more
RAFTING – CANYONING – KAYAKING – RIVER HIKING – HIGH ROPES COURSE and many more adventures are waiting for you!
Our partners and outdoor specialists - the teams from 'Adventure Club Kaiserwinkl' and 'Sport and Nature', provide a perfect blend of fun, activity and natural surroundings. Whether it is by boat or on foot, Entenloch gorge in Klobenstein is well worth a visit! Those of you who would like to prefer to gaze in wonder at the region from up high can also head out on the via ferrata route in Klobstein. Adventure calls in every corner of the region!
Wild water rafting: Rafting tour through Tyrol
Rafting is a popular water sport. You travel across the river in a dinghy – from somewhat gentle waters, to a torrent. Depending on the difficulty level, this adventure holiday is suitable for all the family and can be geared to suit those who are fans of an exhilarating adrenaline rush.
Water rafting on the Tiroler Ache
The Tiroler Ache can beyond any doubt be described as a more tranquil rafting tour. An ideal excursion for heading out with small children or if your are new to rafting. A leisurely dinghy journey is an adventure for the senses: The gentle rush of the river, the views to the unspoilt natural surroundings and all around, the cool water. Go through Entenloch gorge to Klobenstein gorge. Perhaps you might even be courageous enough to have a go at wild water swimming? Water rafting on the Tiroler Ache is like a romantic adventure in natural surroundings and provides lots of fun and great moods.
Adventurous eddies in the 'Antenloch'
The Tiroler Ache has an adventure-filled strait to Kössen - the 'Antenloch'. Here narrow S-bends and challenging eddies await. This rafting tour provides variety with eddy swimming and even cliff diving. To be able to enjoy this rafting action to the full a good level of swimming is required.
Details about rafting in Austria and Tyrol:
Tiroler Ache: Rafting tours for all the family, without any torrents
Antenloch: Variety with eddies, swimming and cliff diving
Canyoning: Outdoor action between gorges and water
Canyoning tours are ideal for an exciting adventure-filled holiday. You get to explore natural gorges, experience thrills while gliding down over natural slides and are in the middle of natural surroundings. Cast aside any fears while canyoning, as you leap from a cliff, abseil or have to pass a rushing waterfall.
Thanks to the structure of the terrain in the surrounding area, canyoning in Tyrol is very doable and particularly variety-packed. Kössen, between the Chiemgau Alps and the southern Kaiser mountains, provides breath-taking canyons to explore. The wild adventure begins in the valley basin, so too does an exploration of the dreamy mountain realm.
Kitted out with suitable climbing equipment, a helmet and a wet suit, you are armed for a canyoning tour. A Canyoning guide leads you and provides motivation to surpass yourself. Self-conquest is the biggest challenge during this outdoor adventure. After this tour, you head out into the world with greater self-confidence and will remember this adventure-packed holiday for a long time to come.
Canyoning in Tyrol near Kössen:
guided canyoning tour for adults
canyoning for children with water slides
Incl. special equipment and wetsuit
Kayaking in Kössen, Tyrol
If a dinghy is too big for you, instead of rafting, you could also take a kayak over the wild water. You feel each and every wave on your body and battle against it with your own body or as part of a team. Tackling the fast waters in a kayak is regarded as a supreme discipline in the wild water.
Access points for kayaking:
Loferbach confluence
Sandbank
Hüttenwirtsbrücke Rafting Centre
Other activities for your summer holiday in Tyrol: