Paragliding in Tyrol – Paragliding in Kössen in the Kaiserwinkl
Way up high, with views to the dreamy mountains and pastures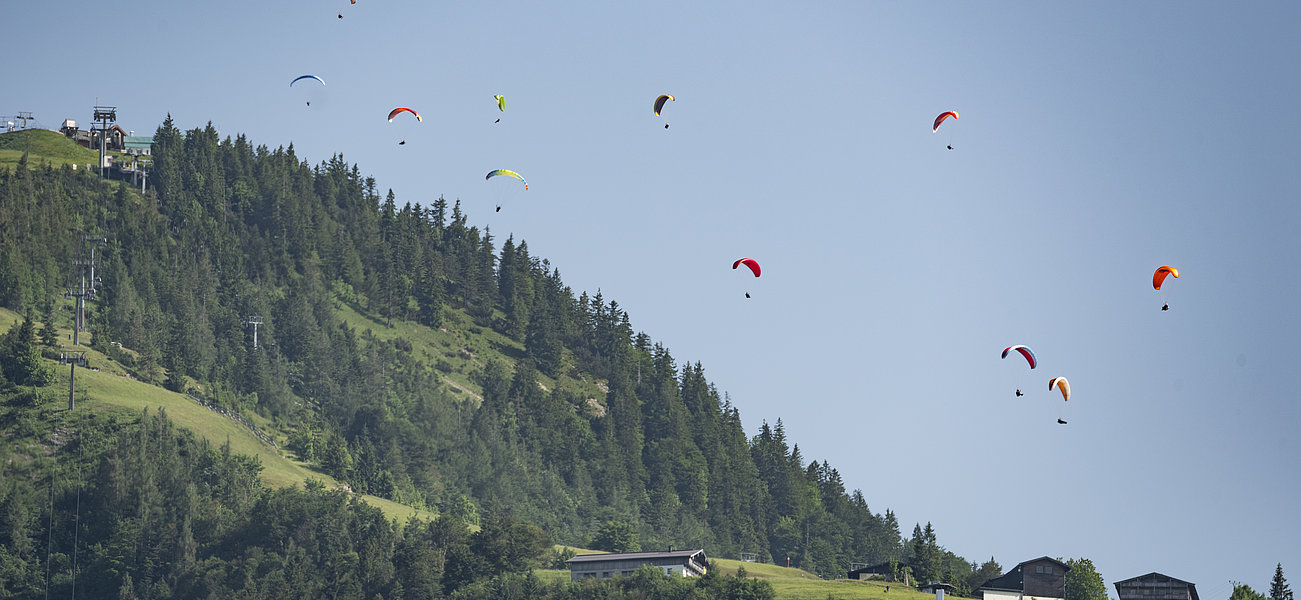 Paragliding, tandem paragliding, hang-gliding: What is it?
Paragliding is an aerial sport which is gaining in popularity. With a paraglider and secured in a harness, the pilot steers the craft very slowly and specifically to the ground. This sport is also known as hang-gliding.
Hang-gliding is similar, but instead of a paraglider, a fixed wing craft is used. For the most part, the pilot is in a lying position, whereas, during paragliding a seated position is assumed.
Suitable starting and landing points are required for these flight sports, to get the maximum flight time and ensure sufficient safety. Paragliding is a tradition in Kössen in the Kaiserwinkl and in the summer many fans meet up to enjoying flying sessions together. Good thermals on the Unterberg make for perfect paragliding above Tyrol and provide wonderful views to the idyllic mountain landscape.
Paragliding Mecca in Tyrol: Kössen in the Kaiserwinkl
Kössen in the Kaiserwinkl may indeed be defined as the birthplace of paragliding and hang-gliding. It is not just from a historical point of view that every year in Kössen crafts can be seen sailing through the air. The ideal thermals and the gentle winds are great for new and returning fans of this aerial sport. The lovely panorama across Tyrol is also unrivalled for paragliding.
To head into the flight area, a start zone has to be found. The summit used for gliding off into 1500 metres altitude is easily accessible via cable car. When you have a valid flight pass, the relevant equipment can be hired from various service providers. The flight school in Kössen is also happy to take beginners with them on a tandem pargliding flight and they can make it possible for you, as a guest flyer, to experience the thrills in total safety. At any rate, there are a few rules to adhere to, in order to avoid accidents and fly in harmony with other pilots. So a gliding holiday in Tyrol is an unforgettable experience!
Special features of tandem flying in Kössen:
Tradition: Pioneering area for paragliding
Infrastructure: Starting points accessible by cable car or hiking
Training: Kössen flying school
Service: Information station 'Fliegerbar' for information, equipment, registration and cuisine
'Super Paragliding Testival' – event for the sector
Many years ago, the unbelievable feeling of freedom provided by hang-gliding and paragliding was explored extensively here on the Unterberg – a true pioneering area! For this reason, the annual 'Super Paragliding Testival' is, without exception, one of the best attended and biggest flight sport events in the world. For anyone who is looking for an unforgettable holiday experience, we are very confident in our mountain friends at 'Next Outdoor Generation', who will help you discover the region from a bird's eye view.
Details about the gliding event:
biggest gliding event and meeting for the sector in the world
over 7500 flights
more than 3000 pilots
Other activities for your summer holiday in Tyrol: