Cycling holiday in the Kaiserwinkl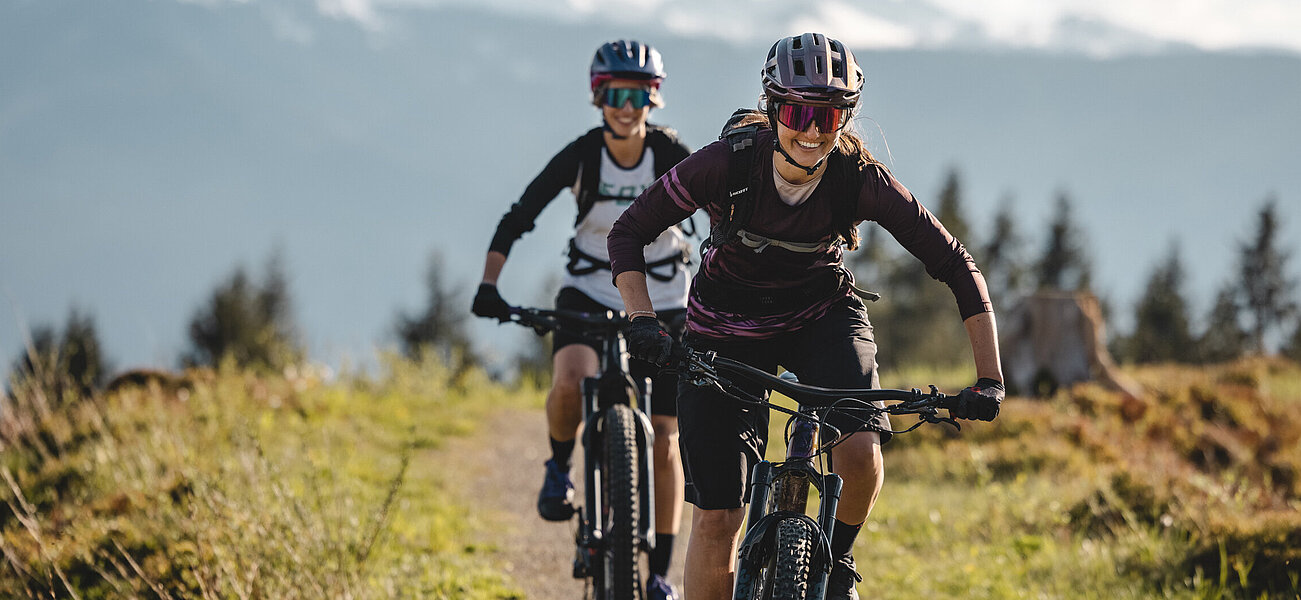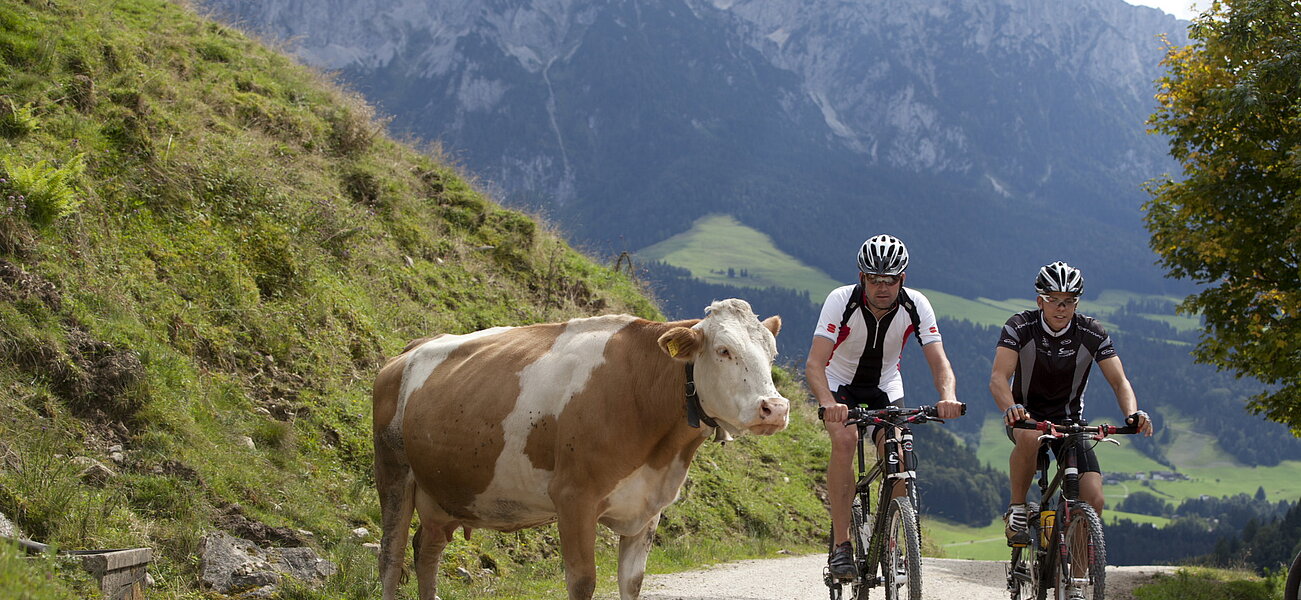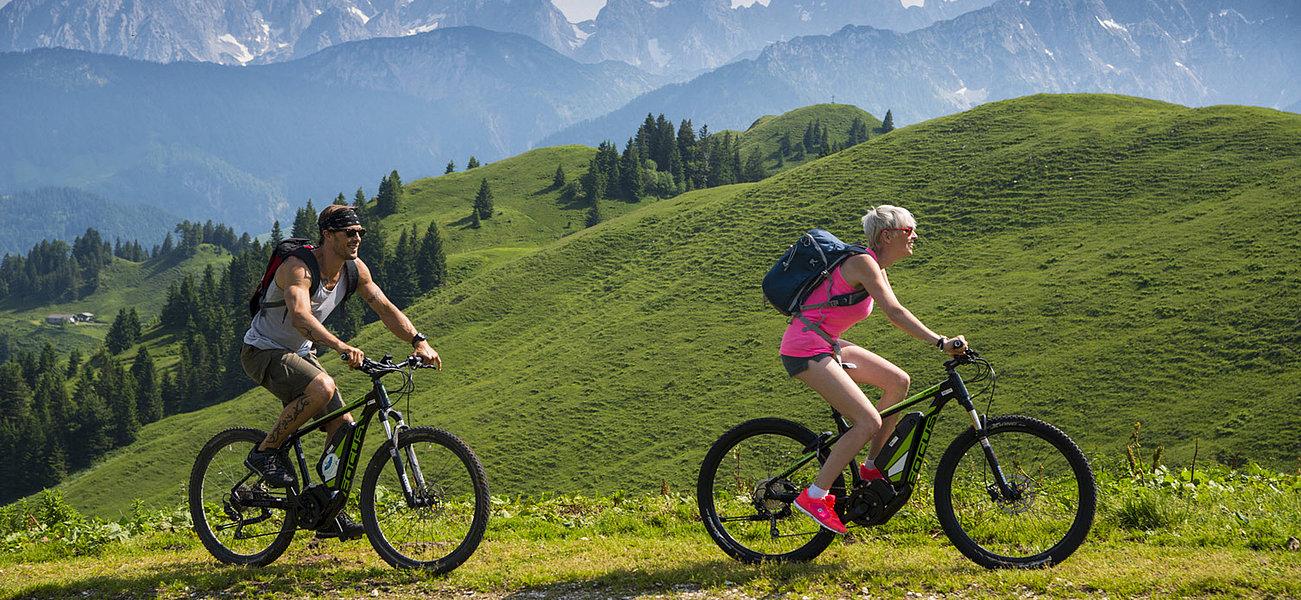 Cycling fun on an E-bike, road bike or mountain bike
Between the Chiemgau Alps and the Kaiser mountains there is quite a number of kilometres of unforgettable cycle fun to be enjoyed. Our guests get to decide whether they want to explore the picturesque surroundings on a mountain bike, a road bike or on a power-driven E-bike. In the Kaiserwinkl leisure cyclists and extreme cyclists alike are well catered for:
180 km cycling paths in total
Of which there is an 125 km of signposted mountain bike tours
Downhill trails for an adrenaline hit are as abundant here as asphalt, serpentine roads for roadies. Around Das Walchsee Sportresort roadies will find lots of flatter and long, meandering panoramic roads: For instance, why not explore the extensive Kaiser circuit, Pillersee circuit or the Reintal lake circuit during a road bike holiday In the Kaiserwinkl!
Enquire about your bike holiday now!
Or get in touch by telephone:+43 5374 5331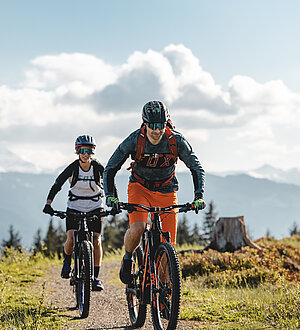 Details
Mountain-bike routes around Walchsee
Details
Mountain bike holiday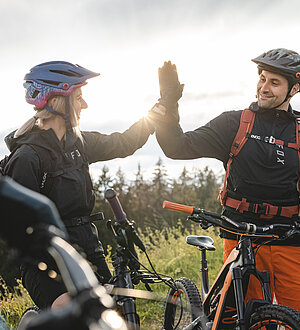 Details
Our mountain bike guides in Das Walchsee Sportresort
Bespoke cycle holiday in Austria
During a road- and mountain-bike holiday in the Kaiserwinkl you will find sporty challenges and dreamy natural surroundings. Depending on your ability level, you will find offers to enjoy a leisurely cycling holiday with all the family, or kilometre upon kilometre of challenging cycle tours – all in our sporty 4-star hotel in Walchsee.
As a certified Bike Hotel, in our Resort guests will find the perfect setting for a cycling holiday. Anyone who stays as a guest in Das Walchsee Sportresort will enjoy a variety-packed holiday – including a complete package with Wellness offers, energy-rich treats and lots of other offers of interest for cyclists!
E-Bike holiday in the Kaiserwinkl
Effortless cycling through the Kaiserwinkl region on an E-bike: Your own strength gets a boost from technology, which means even steep mountain roads can be tackled almost effortlessly. Up to the loveliest viewing points in the mountains or during an extended cycle tour through the surrounding areas: Discover Walchsee and the Kaiser mountains in complete comfort, on an E-bike!
E-Bike world Kaiser mountains
E-Bikes are the perfect piece of sports equipment for exciting adventure-filled tours in the idyllic natural landscape of the Kaiserwinkl. With electric support, you can get to destinations that are higher up, without expending as much energy.
The E-Bike world, which includes the Kitzbühel Alps and the Kaiser mountains, with the Zahmer and Wilder Kaiser opens up a bike path network spanning 1000km: ideally suited to E-bikes.
One very special highlight are the E-bike & hike tours: One unique adventures is the tour to crystal-clear Taubensee, a mountain lake on the Tyrol-Bavaria border. Those of you who are courageous can cool off in the fresh water after the bike and hike tour.
Hire E-bikes & mountain bikes in Walchsee
The variety-packed offer in the Kaiserwinkl leaves you wanting for nothing.If you are interested just contact us at Reception, reserve bikes and get information about hire options and about the affiliated workshop. Experts on site provide our guests with advice regarding suitable bike models and individual set-up.
With E-Bikes from Skibikestadl bike hire (90 m from our hotel) you get to head out on unforgettable bike adventures direct from our Sportresort. There are no many limits thanks the extensive battery operating range. Should the battery run out of juice, in Das Walchsee Sportresort and throughout the Kaiserwinkl, there are numerous free charging stations available.
Facilities in our cycling hotel
Das Walchsee Sportresort is regarded as a well-known meeting point for sports enthusiasts. Mountain bike fans and roadies in particular are very well catered for. Along with qualified guides - who provide guided tours out of and for the region – you will also find the right facilities here to enjoy a carefree holiday on the bike. These include:
A service area for your bike: kitted out with a workbench, tools, spare inner tubes and pumps
Lockable bike storage area CCTV monitored
individual Bike locks
Bike wash areaWith a high-pressure cleaner and bike cleaning materials
Laundry service: Washing, hanging up & drying of bike clothing and equipment
Plenty of Charging stations for E-bikes
Guided tours with mountain bike experts
Expert staff
Shower options available on the day you are due to depart
Bike information corner With cycle maps & maps of the surrounding area
Once a week a get-together with everyone who is interested in cycling
3 mountain bike tours a week
The first taster tour takes place on the main arrival day and is free of charge. The level of the second and third tour is then individually adapted to suit the ability level and experience of our guests.
Bike service in Das Walchsee Sportresort
It's as though Tyrol were specifically designed for mountain biking. Das Walchsee Sportresort is the ideal starting point for a mountain bike tour. Beginners and pros alike are very well catered for here.
As Classic Partner of Mountainbike Holidays Das Walchsee Sportresort is especially popular with holiday guests who very much appreciate the following highlights:
Cycling expertise from Qualified guides
Private guide on request
2 guided tours; 7 days a week
Well-devised bike programme with themed tours
Bike technique training
GPS advice
Collection service In the event of breakdowns
Energy-rich meals for our performance-oriented guests
It is not only with regard to bikes and our guided tours that we are well kitted out. With regard to meals, we provide plenty of variety too and Extensive, balanced meals. This includes:
Buffet breakfast with fruit and cereal
Xenofit energy bars & drinks
Après bike snack
Energy half-board option, with buffet in the evening
Das Walchsee Sportresort – Classic Partner of Mountainbike Holidays
Our hotel offers an extensive programme to complement a bike holiday:
Healthy buffet breakfast
Option of half-board or luxurious board
The hotel bar to bring the day to a close
In our Move & Relax area we take care of all of your needs. Enjoy a vigorous sports massage or work out in our training rooms!An extensive pool – with an 11 metre indoor pool and 13.5 metre outdoor pool – tempt you to relax and unwind. Those of you who enjoy saunas will feel just right here with us. Waiting for our guests in the Relax area:
Finnish sauna
Biosauna
Family sauna (textile sauna)
Steam bath
Infra-red cabins