Current information on the reopening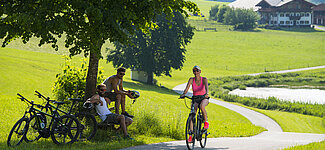 Dear guests & friends of Das Walchsee Sportresort!
Since 28 May 2021 Das Walchsee Sportresort will be there for you with full vigor and a comprehensive hygiene and safety concept.
So that you can enjoy a relaxed and restful vacation with us, our hotel is a certified testing station by the province of Tyrol. Take advantage of our official, uncomplicated, free antigen testing option with a validity of 24 hours.
With our attractive cancellation conditions you are flexible:
Free cancellation until 7 days before arrival*
Furthermore, a free cancellation is valid at any time in the event of the following:
You yourself or one of your fellow travelers are/is Covid-19 positive tested (presentation of a positive test)
You yourself or one of your fellow travelers are/is a K1 or K2 person (presentation of an official certificate)
Travel warning for the federal state of Tyrol or the country of Austria
State quarantine obligation for return travelers from the federal state of Tyrol or country of Austria
For questions, information and your booking, we are happy to be reached via email info@hotelwalchsee.at or via phone +43 5374 5331.
Please do not hesitate to contact us.
Stay healthy and see you soon!
Your team from the Das Walchsee Sportresort
*not valid from Dezember 23, 2021 until January 09, 2022
Safe with us - your check list for a relaxing vacation
Feelings of happiness arise! We are very happy to welcome you again and offer you enough space to feel comfortable for your time out. We have used this long time to refine our already detailed and existing hygiene and safety concept, in coordination with our company doctor and Covid representative - we guarantee you a vacation to feel good.
In addition to distance, you can expect an enormous amount of space, wonderful nature, beautiful places and unique experiences. You do not have to worry about anything, because your safety and well-being is well taken care of.
Your vacation starts uncomplicated
Enjoy your time out at the mountains and lakes from the start
For your arrival you need a negative test (antigen or PCR test), a vaccination certificate or a convalescence certificate (from 12 years)
We welcome you and are glad that you are here - with a lot of distance and without shaking hands
We register you automatically and without complications at check-in
For the protection of you and our staff Plexiglas screens at the reception and at the bar
Upon arrival you will find your room sealed: Your room is freshly cleaned and disinfected for you
Flexible cancellation conditions for your vacation planning
Our request to you
Special times require special measures
Disinfect and wash your hands several times a day - disinfection dispensers are available throughout the hotel
Pay contactless whenever possible
Moving experiences without obstacles
Move & Relax a concept - that gets people moving
The whole Move & Relax area is open for you
Spacious fitness and wellness area with outdoor lounging possibilities - enough space for everyone
Experience a relaxing massage offer and soothing cosmetic treatments in compliance with the valid safety and hygiene standards
Participation in the varied group training plan - registration directly at the Move & Relax reception desk
Guided outdoor activities
Enjoy your vacation safely
The health, protection and well-being of our guests and employees is important to us
Cleanliness concept was once again adapted to a higher level
Safety and hygiene concept refined again with our company physician and Covid representative
Increase in cleaning and disinfection intervals with Diversey products
Numerous disinfection dispensers installed throughout the building
Certified testing station of the province of Tyrol in the hotel: official, uncomplicated, free antigen testing possibility directly in the hotel - validity 48 hours
Test yourself conveniently in your room - without waiting times: PCR gargle test possibility from SGS INSTITUT FRESENIUS Diagnostiklabor GmbH for € 35.00 possible at our hotel. The result will be sent directly to your cell phone.
Regular testing of employees
Ongoing staff training regarding safety and hygiene concept
Rooms are continuously ventilated
Distances are marked by floor markings
If you do not feel well or suffer from symptoms of illness, please stay at home
We ask you to comply with the Covid 19 measures on your own responsibility
Masks and disinfectants are available at the reception desk
The green passport is valid with us