Cross-country skiing in Tyrol – a cross-country holiday in the Kaiserwinkl
Cross-country skiing for endless hours in the middle of the snow-covered mountains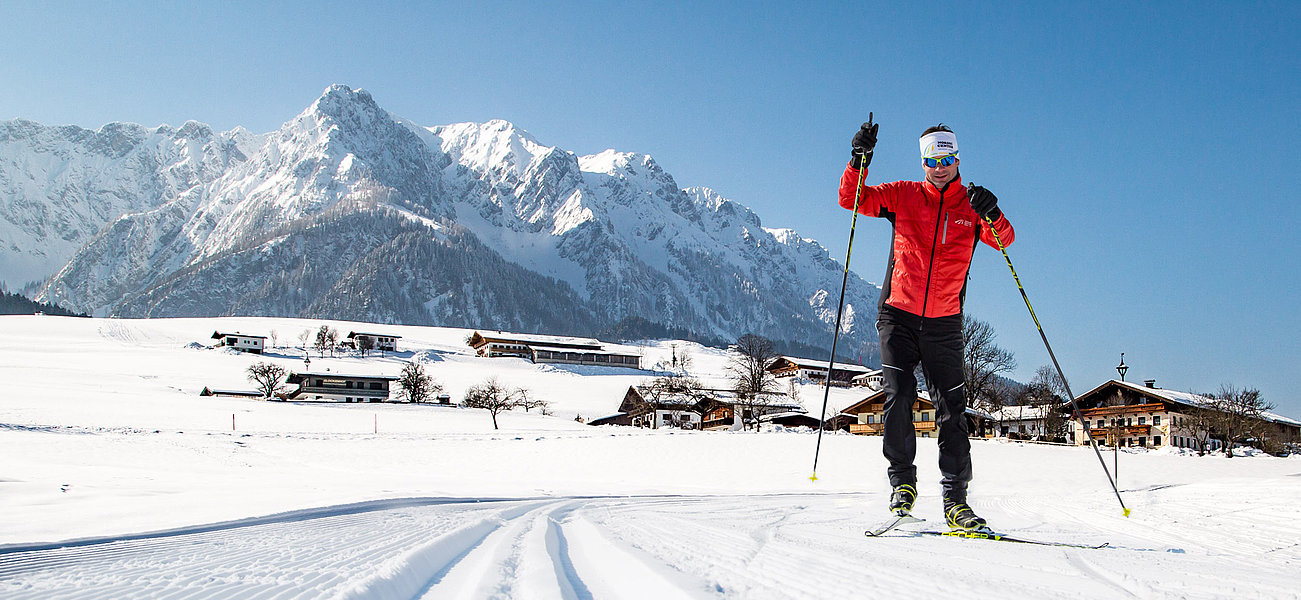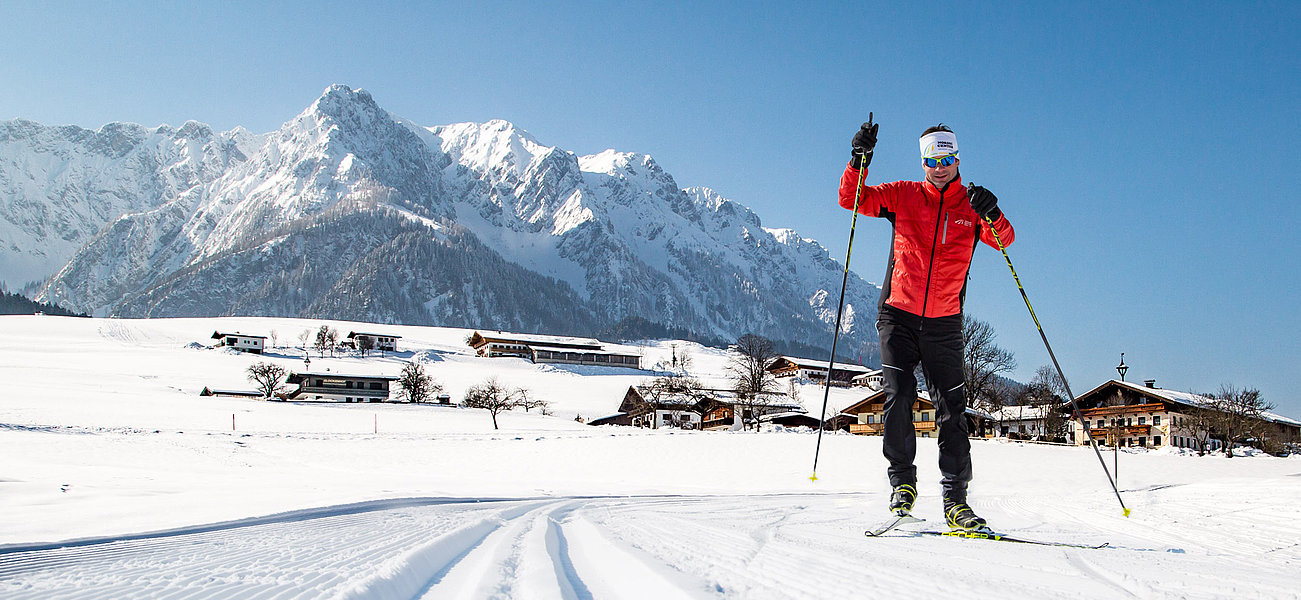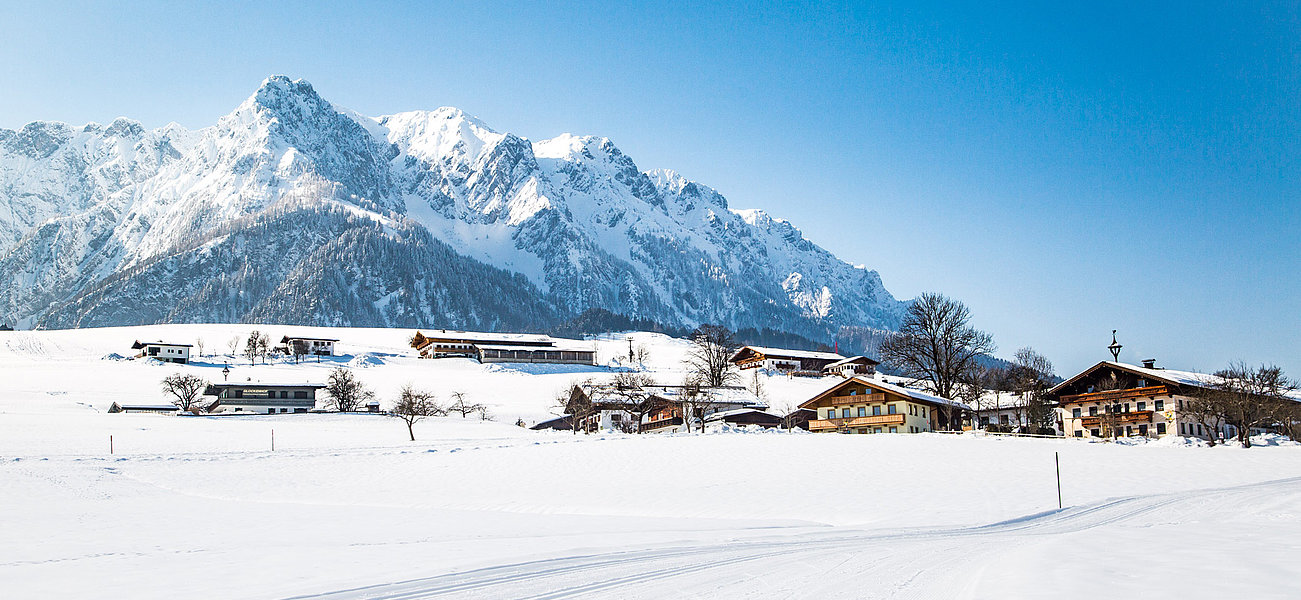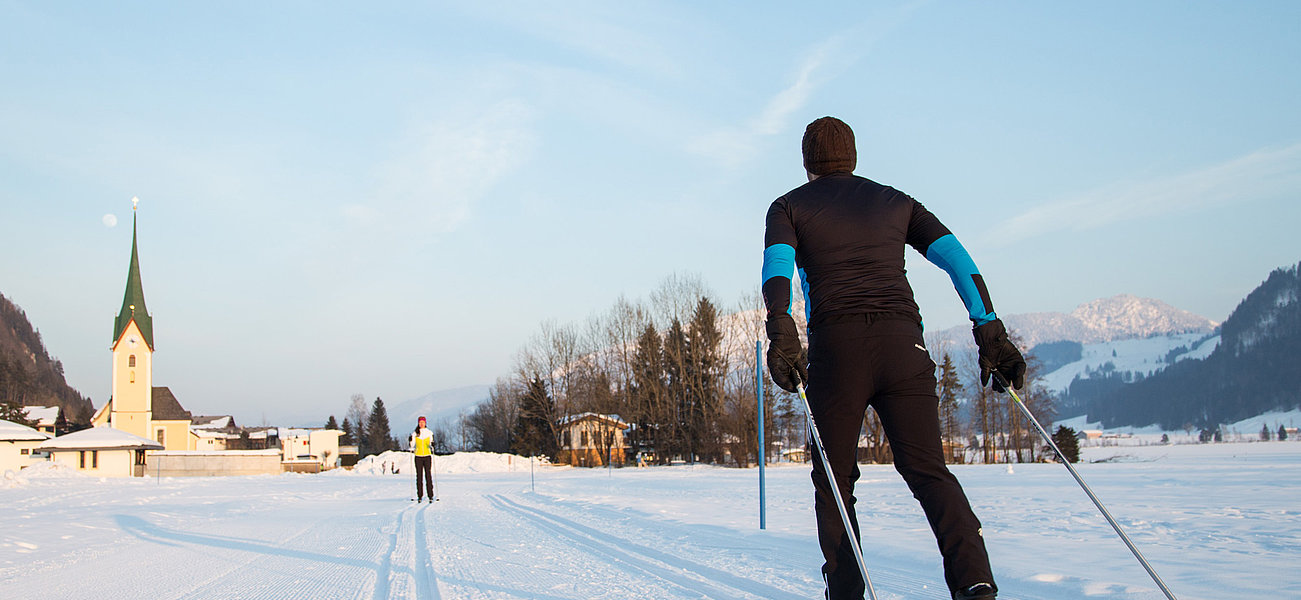 Cross-country areas with the slope seal of approval: Cross-country skiing in Tyrol
Skiing and cross-country skiing awaken a weary spirit. Gliding along the trails is regarded as a very special kind of endurance sport. So many kilometres can be covered over several hours, while you breathe in the winter and mountain air. Your body gets an intense work-out during the ascent. In contrast, the gentle ride downhill provides a hint of action in the midst of the beautiful natural surroundings, in what would otherwise be tranquil cross-country skiing.
The most comfortable cross-country holiday can be found in cross-country regions which are 'Tiroler Langlaufspezialisten' – of which the Kaiserwinkl is one. These are Cross-country regions, where the focus is very much on Nordic ski sport. The trail seal of approval for the state of Tyrol is awarded to all regions who meet high quality standards for cross-country skiing in Austria.
Cross-country skiing with the Tyrol slope seal of approval promises you:
Trail network: min. 50 kilometres
Comfort: Good infrastructure
Service: High level of customer service along with qualified ski schools and hire points
Flexibility: for beginners through to experts
Accommodation: Approved cross-country accommodation
These Tyrolean cross-country areas also promise you quality, security and a very special service. Let your cross-country skiing holiday in Austria begin!
Cross-country holiday in the Sportresort: Kaiserwinkl cross-country area
Did you know that in the Kaiserwinkl there is one of the biggest network of trails in all of Austria? Up to 121 kilometres of classic and 119.5 kilometres of cross-country trails for skating span the towns of Kössen, Walchsee, Schwendt and Rettenschöss. All have been awarded the trail seal of approval from the state of Tyrol. There are even two snow-assured trails that enable you to enjoy cross-country skiing in Austria on the Kaiserwinkl, irrespective of the weather.
Thanks to the wide variety of trails, there are plenty of routes for beginners, those at an advanced level, as well as the fastidious athlete. Connoisseurs know all about the Kaiserwinkl, even throughout Europe. Cross-country skiers and skaters will find everything here that makes for a very good cross-country holiday. Use of the trails in the Kaiserwinkl as well as the neighbouring region of Reit im Winkl is also free of charge.
Cross-country skiing in Tyrol's Kaiserwinkl: Benefits at a glance:
Awarded the slope seal of approval from the state of Tyrol
Part of 'Tiroler Langlaufspezialisten'
121 kilometre trail network suitable for beginners through to experts
Ski schools to learn about cross-country
Free use of the cross-country trails
Two snow-covered trails from December
Free offers and benefits with the Kaiserwinkl Card
Cross-country ski guide: What cross-country route suits me?
Over 120 kilometres of cross-country skiing routes makes for a variety-packed cross-country holiday. Which region and cross-country route should you try? With the trail overview you get an overview of the dreamiest cross-country tours. The filter enables you to precisely define your preferences, to be able to enjoy cross-country skiing the way you like best.
Is it to be the 'Walchsee snow-covered trail'? With its route spanning 2.1 kilometres and 35 metres ascent, it is lovely to negotiate, provides wonderful views and is ideally suited to beginners. Or are you ready for the challenge presented by the 'Kaiserwinkl trail'? With a decent 21.5 kilometres and 425 metres ascent, this journey takes you across a steep slope, open fields and over partly undulating terrain.
The desired difficulty level, distance and duration can be individually determined to find many other cross-country routes. The skating technique is there as an option, so you can then be shown the respective trails for it. Let the wild ride begin!
Other activities for your winter holiday in Das Walchsee Sportresort:
Ice-skating & curling
Tobogganing & Sledding
Hot air balloon rides
Horse-drawn carriage ride
Snowtubing & Snowbiking