Snow-shoe and winter hiking through Tyrol
Journeys and snow-shoe hikes in the wonderful mountain panorama of Tyrol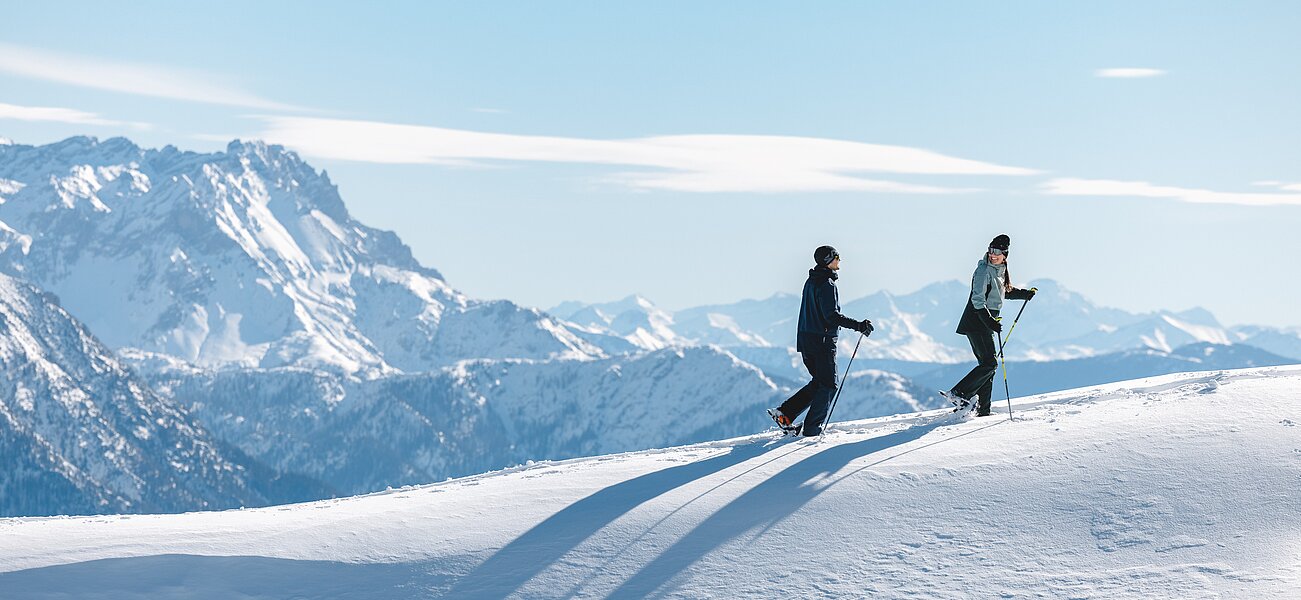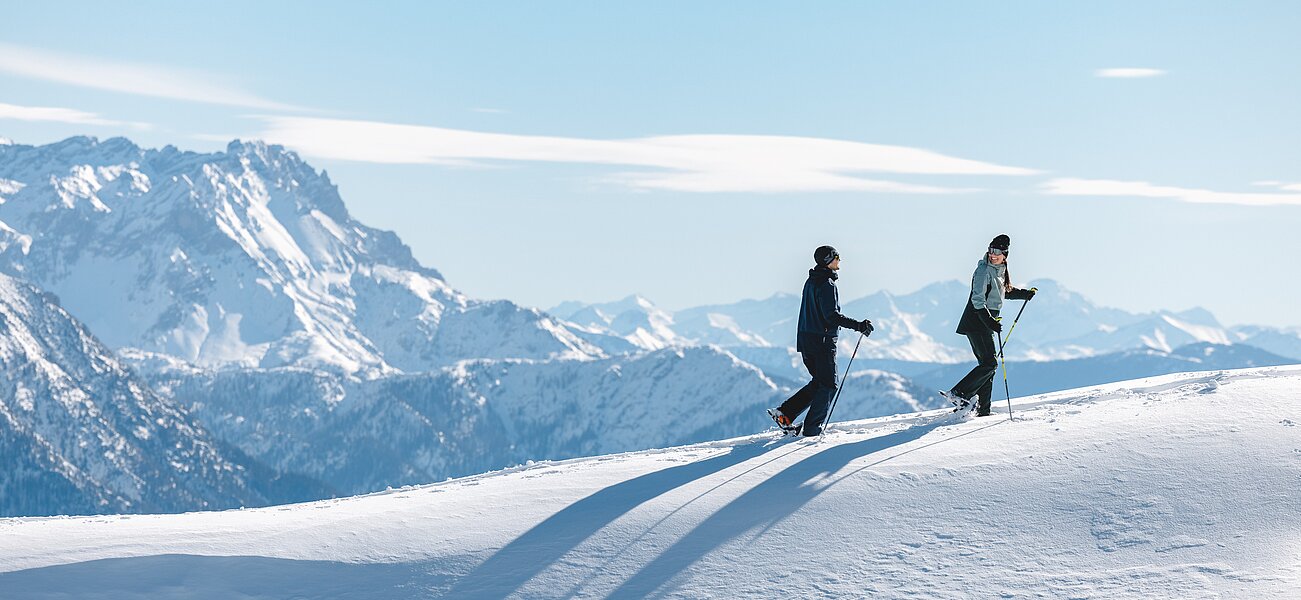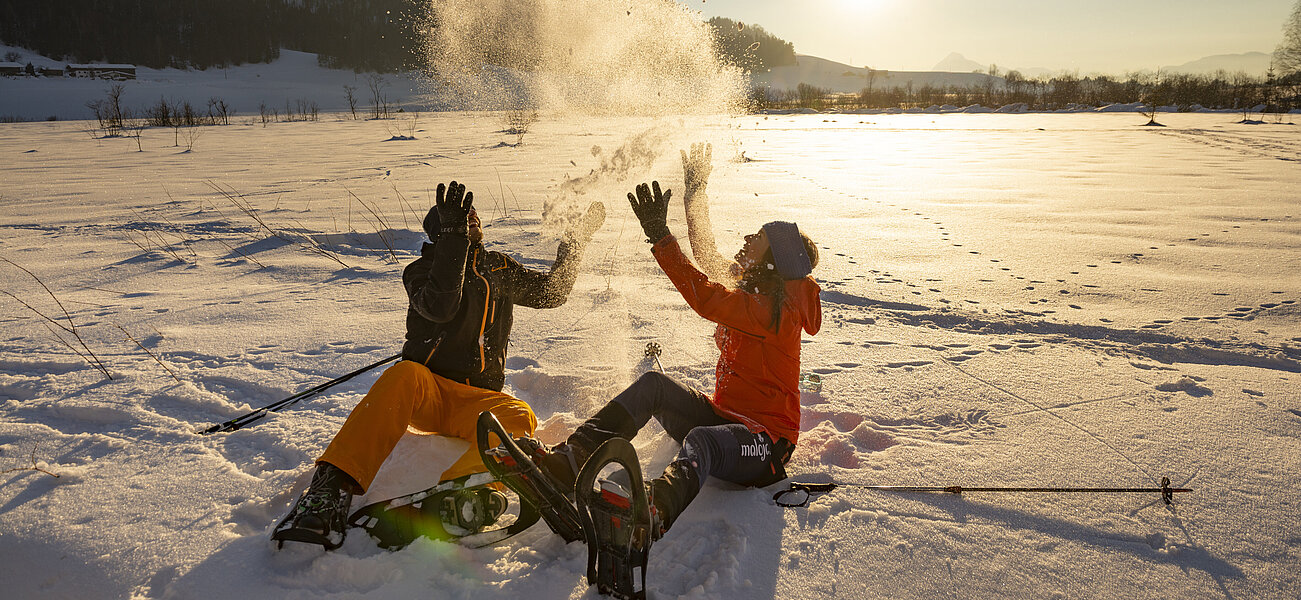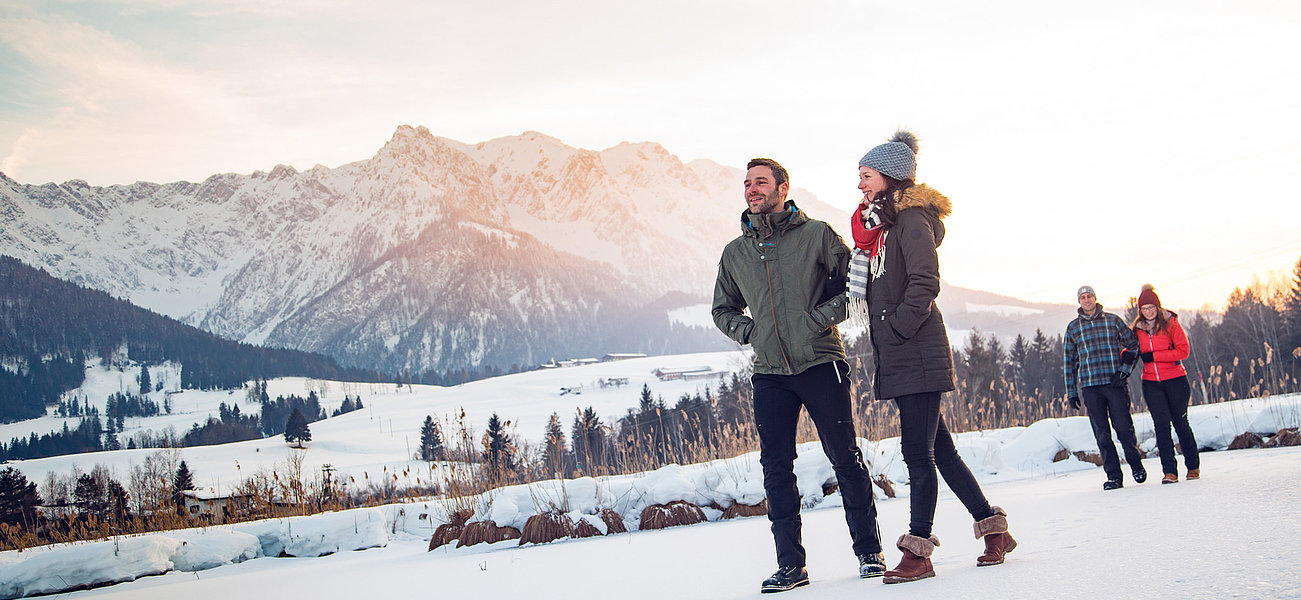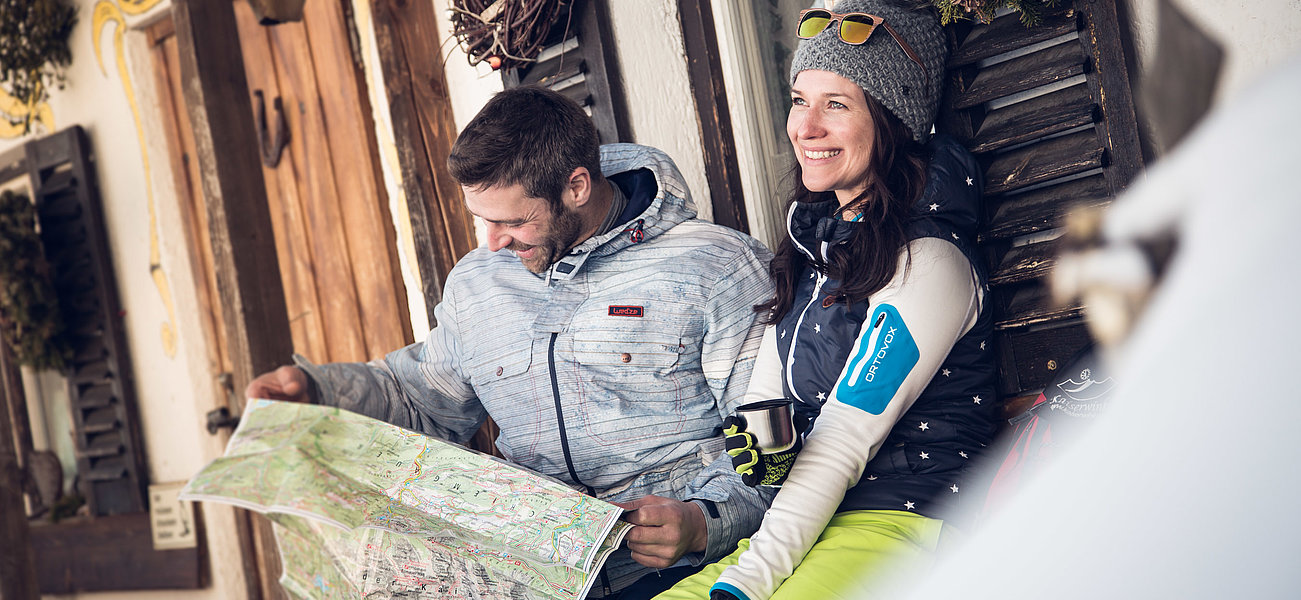 Winter hiking: Enjoy sport in the winter in Austria
Hikes are a popular alternative to a stressful day-to-day life. The open natural surroundings can be experienced with all the senses and help relax mind and body. Also popular are hiking holidays which inspire with wellness and overnight stays in atmospheric accommodation. In Sportresort Das Walchsee we help you, with our offers based around the philosophy of exercise and relaxation: Move & Relax!
Hiking is not just an option for the summer. Winter hiking is enjoying ever greater popularity. Cleared winter hiking trails make it possible for danger-free walks and exploring the natural surroundings to be enjoyed in the winter and when it is snowing.
What can you expect? A unique mountain panorama between the snow-covered summits of the Zahmer and Wilder Kaiser. Head out on a journey on foot in the idyllic natural setting in the Kaiserwinkl and enjoy the tranquillity and feeling of freedom on the mountain! On 80 tended and signposted winter hiking paths you will also be accompanied by our fully qualified winter hiking guides.
Benefits: Winter hike in the Kaiserwinkl
some 80 kilometres of cleared winter hiking paths
Guided winter hikes
Various difficulty levels
Plan a winter hike in Austria:
In order to plan your winter hiking paths, you can simply use the winter hiking path guide. Choose from easy and challenging winter hiking paths, which can be completed in just an hour or which span several hours. The practical filter also enables you to determine the respective kilometres of the routes. Winter hiking in Austria is so easy!
Maybe you like the 'Hochbergrunde'. This idyllic winter hiking tour proceeds over 7.8 kilometres and is easy to hike. The snow-covered slopes and views to the breath-taking horizon are a pleasure for the senses. On the 'Mühlbergalm and Taubenseehütte' winter hike you also get to enjoy a bigger challenge. There are steeply ascending passages that have to be negotiated here to get to the destination in around 4 hours. Find many more exciting winter hiking paths in this region and experience nature in invigorating winter.
Snow-shoe tours through Tyrol: Winter holiday in the Kaiserwinkl
There is also the option to enjoy snow-shoe hikes and snow-shoe tours in Austria in the Kaiserwinkl. On snow-shoes you get to hike through the expansive snowy landscape in this region without sinking in to the deep snow. There are so many routes available. Snow-shoe hiking between the Kaiser mountains and the Chiemgau Alps is a paradise for snow-shoe hikers. This region is ideal for variety-packed snow-shoe tours and an unforgettable adventure.
Anyone who needs a bit of help can also take part in snow-shoe and taster courses. There are also various service providers where you can hire snow shoes or book guided snow-shoe tours. Enjoy your winter holiday away from the cleared winter hiking paths and feel freer than ever!
Benefits: Snow-shoe hiking in the Kaiserwinkl
Guided snow-shoe hikes
Snow-shoe hire
Free taster courses
Popular snow-shoe tours at a glance:
Not sure which snow-shoe hiking path meets your needs? Not a problem! – The best snow shoe tours. are so easy to look up metres ascent, route length and duration of the snow-shoe hike can be seen at a glance along with the route make-up.
Should you have more questions, or need a few suggestions, we are here to help. At any rate, snow-shoe hikes with an overnight stay are the highlight of any winter holiday.
Other activities for your winter holiday in Das Walchsee Activeresort:
Ice-skating & curling
Tobogganing & Sledding
Hot air balloon rides
Horse-drawn carriage ride
Snowtubing & Snowbiking